To celebrate opening our doors in Auckland, we believe a bit of holiday enticement is in order.
The Auckland to Auckland via the volcanic plateau will open your eyes to what a fabulous and diverse land sits on Australia's doorstep and we guarantee after this trip you'll be back for more.
Day One/Two – Auckland/Wakheke Island
Arrive at Auckland Airport and pick up your car from our Auckland location (12 Rennie Drive, Mangere, Auckland) which is a speedy 10 minute-shuttle service from the airport.
We recommend spending a few days in Auckland to explore this cosmopolitan city and the surrounding areas especially Devonport (a 15-minute drive from the city). On day two pop over to Waiheke Island via the Wakheke Car Ferry and explore this beautiful island at your leisure. Wakheke Island is an ideal day trip destination, but it's also worth staying at least one night – famous for its vineyards, art galleries, white beaches and its marine park, it's the perfect location to settle into holiday mode before hitting the road.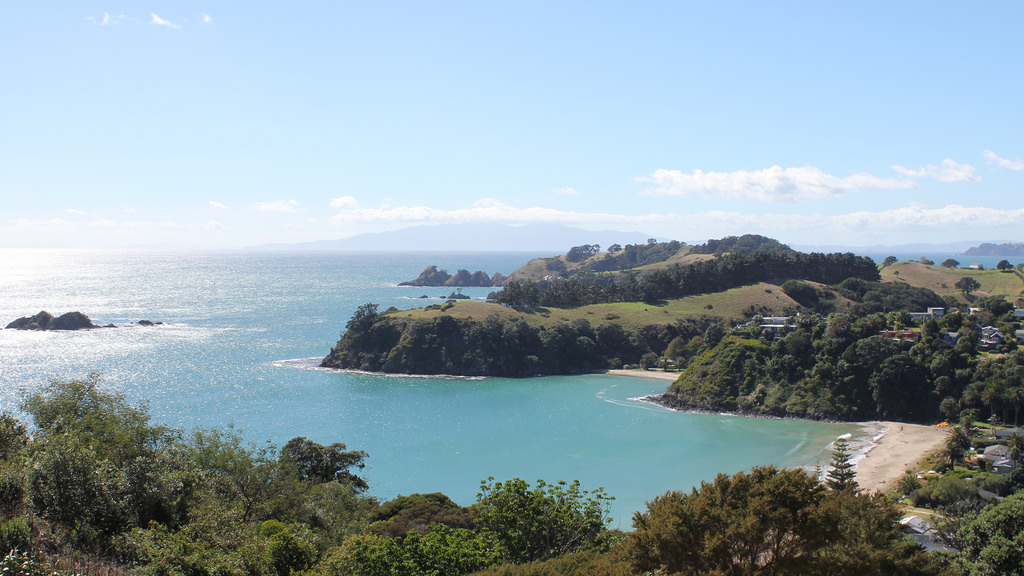 Day Three – Auckland to Matamata to Rotorua
After Auckland and the green Bombay Hills, you'll find yourself in lush farmland on your way to Matamata. This is the area Peter Jackson chose to play The Shire in The Lord of the Rings and The Hobbit trilogies and it's easy to understand why. Stop the car and visit the Hobbiton Movie Set in Matamata and witness how this imaginary place was brought to life.
Back on the road soak in plantation pine forest and native bush scenery, before encountering the curious terrain of the Mamaku district. Mini volcanic cones dot the landscape, some showing their solidified lava core. The last part of today's trip takes you past the gondola and luge rides of Mt Ngongataha.
Tonight you stay in Rotorua, where there is plenty to do – take in a Maori culture show followed by a traditional hangi meal or just enjoy a relaxing soak and a glass of wine in the geothermal hot pools.
Day Four – Rotorua
If there's time spend today in Rotorua which sits squarely on the Pacific Ring of Fire. Get up close to spectacular geysers and crater lakes – the legendary Pohutu Geyser in Te Puia, erupts to a height of 30m up to 20 times a day and is just five minutes from the city.
Rotorua is also home to some of the world's most unique theme and leisure parks which are perfect if you are travelling with bored kids. Check out Skyline Rotorua, Agroventures Adventure Park or let them lose for a few peaceful hours at Amazme.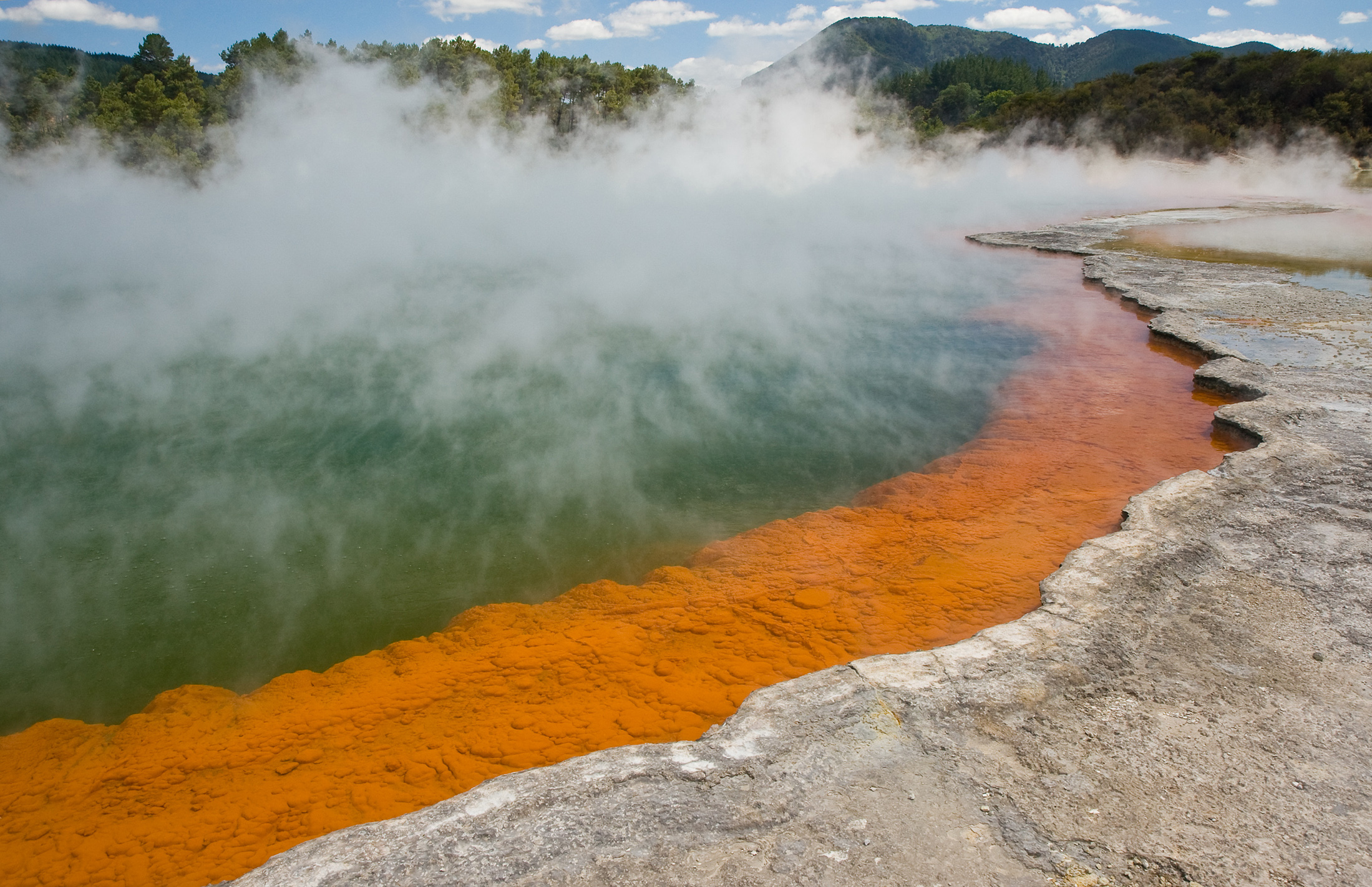 Day Five – Lake Taupo
The resort town of Taupo sits on the edge of New Zealand's largest lake, which is well stocked with sizeable trout. You'll find everything a traveller could wish for, including an excellent choice of restaurants. A boat cruise or kayaking trip out to the Maori rock carvings at Mine Bay is an excellent way to learn about the history of this beautiful area.
Day Six – Tongariro Alpine Crossing
This will be a day that you will remember for the rest of your life. The Tongariro Alpine Crossing is often referred to as New Zealand's greatest day walk. Yes, it's challenging but worth the journey across a remarkable volcanic landscape. Beginning in Mangatepopo Valley near Whakapapa, the track takes roughly 8 hours.
Lava flows, an active crater, steam vents, emerald-coloured lakes and magnificent views combine to make this an unforgettable walking journey. Just remember you will relax those aching muscles in a hot soak in Tokaanu at the end of your walk, before spending the night in Turangi.
Day Seven – Turangi to Waitomo Caves
Today drive from Turangi to the golden flickering glow-worm caves of Waitomo. If you have the energy after yesterday's trek – the beautiful Pureora Forest Park, which is home to several rare bird species, has a number of well-marked walking tracks. Otherwise after the timber town of Te Kuiti, it's just a short drive to the Waitomo turn-off.
The Waitomo Caves district is famous for its subterranean splendour including a series of vast cave systems decorated with stalactites, stalagmites and glow-worms. What a wonderful way to spend your last night on the road, sitting on a boat ride or 'black water rafting' through the caves with glow worms twinkling above you.
Day Eight – homeward bound
Today you head back to Auckland via Hamilton. This last leg of the trip and will take you through prime Waikato farmland. Stop for lunch at Hamilton and stretch your legs if you feel like a slow-wander home. The Waikato River will keep you company on your journey north. On your approach to Auckland extinct volcanic cones welcome you back – there are 48 in total, plus you will cross three beautiful harbours and then you're back where it all began 7 days ago…in stunning Auckland.
Sounds like a great holiday, right? Well New Zealand is a land of incredible beauty with an abundance of endless road trip opportunities – this is just a taste.
Inspired? Book your wheels and hit the road with Redspot Enterprise in New Zealand.