Hobart is Tasmania's capital and the second oldest capital city in Australia. It is a place where you can experience history, the arts and a relaxing city life. The easiest way to see as many things as possible in Hobart is to hire a rental car. With the flexibility of a rental car you will have plenty of time to visit sites like the historic town of Richmond, Port Arthur or the Mount Field National Park.
Location Information
Redspot Car Rentals Hobart City office is located at 67 Argyle Street with the cars parked on-site for your convenience. The office is within close walking distance of popular hotels, shopping centres and cafes. Redspot Car Rentals also offers car rental pick up at Hobart Airport and Launceston Airport.
Roadside Assistance:
Here at Redspot Car Rentals, all of our car rentals are covered by 24 hour roadside assistance. If you break down or encounter any other mechanical problem with your hire car, just contact the 24 hour hotline for a free roadside service. Redspot Car Rentals also offers a premium roadside assistance package to cover you when you accidentally leave the lights on, or lock the keys in the car.
Toll Roads:
There are currently no toll roads in Tasmania Australia.
Sight Seeing Attractions: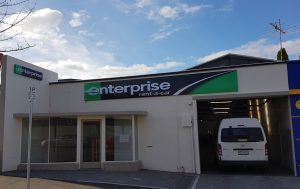 There are a number of exciting attractions for those visiting Hobart. Cradle Mountain, Port Arthur, Wineglass Bay and Freycinet National Park are all popular natural attractions. Not to mention sightings of the carnivorous Tasmanian Devil, penguin rookeries and safe harbour at King Island in Bass Straight.
About Hobart:
Hobart is the state capital of Tasmania. Founded in 1804 as a penal colony, Hobart is Australia's smallest and most historic capital after Sydney. In 2009, the city had a greater area population of approximately 212,019. In close proximity to beautiful natural surrounds, Hobart's skyline is dominated by Mount Wellington.
In 2010, Hobart was named Australia's 6th most sustainable city by the Australian Conservation Foundation. It was also the only Australian city to be listed in the Top 10 Best Travel destinations in the Lonely Planet Guide for 2013. Hobart offers a provocative mix of historic and contemporary culture and is your starting point to explore Southern Tasmania.
What our Customers are Saying About Redspot Hobart: