Tucked away between the bohemia of Byron Bay and the glitz of the Gold Coast, the Tweed Valley is a voluptuous landscape that rolls out bewitching volcanic vistas, picturesque heritage villages and pandanus framed beaches.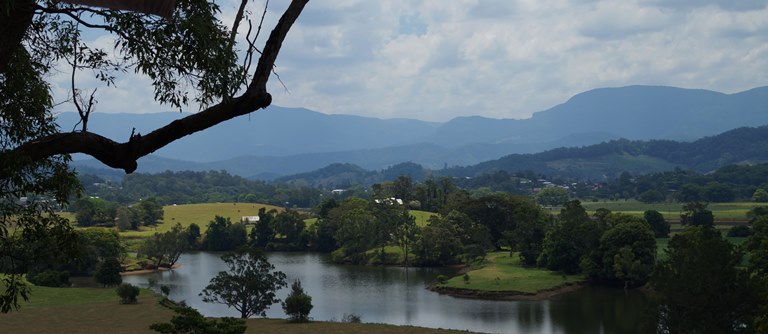 Driving up from Sydney gives us the opportunity to feel the scenery get lusher and the rivers wider.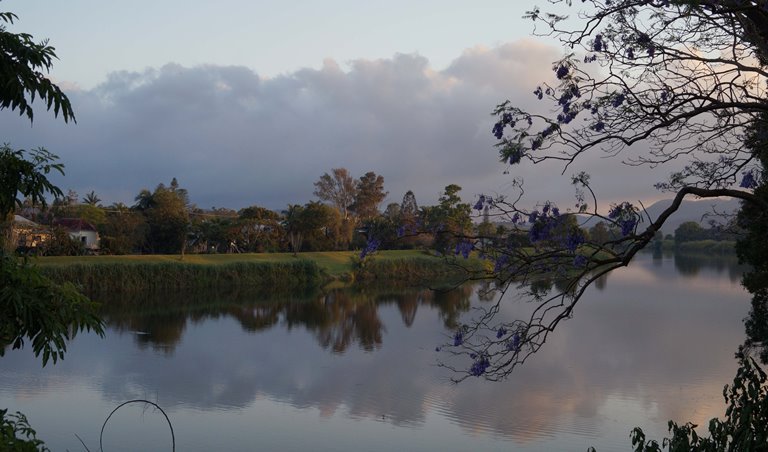 Having decided to overnight in the heritage city of Grafton, we spend the afternoon marvelling at the swoon – inducing architecture of this working country town that's home to 24 parks, the fabulously ornate Saraton Theatre and pubs that seemingly take up an entire block.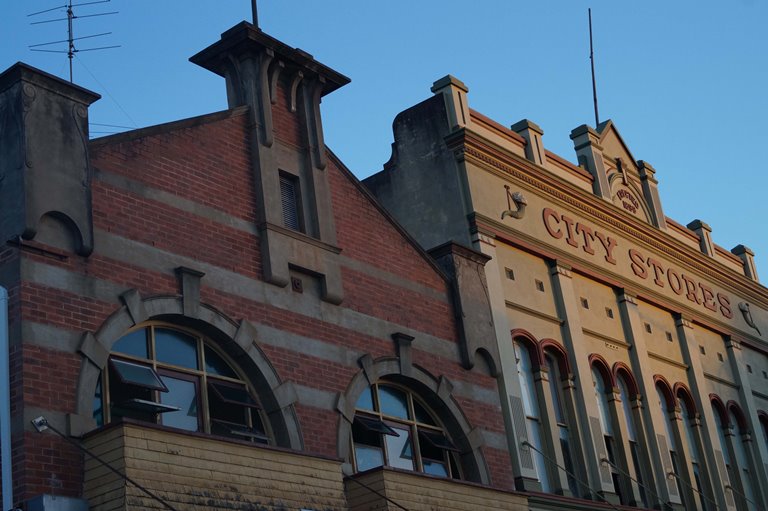 After taking the evocatively named 'Summerland way' north from Grafton and pausing to admire the uncontrived retro streetscapes of Casino – where we refuel at one of Australia's oldest service stations, we feast our eyes on art – deco rich Kyogle.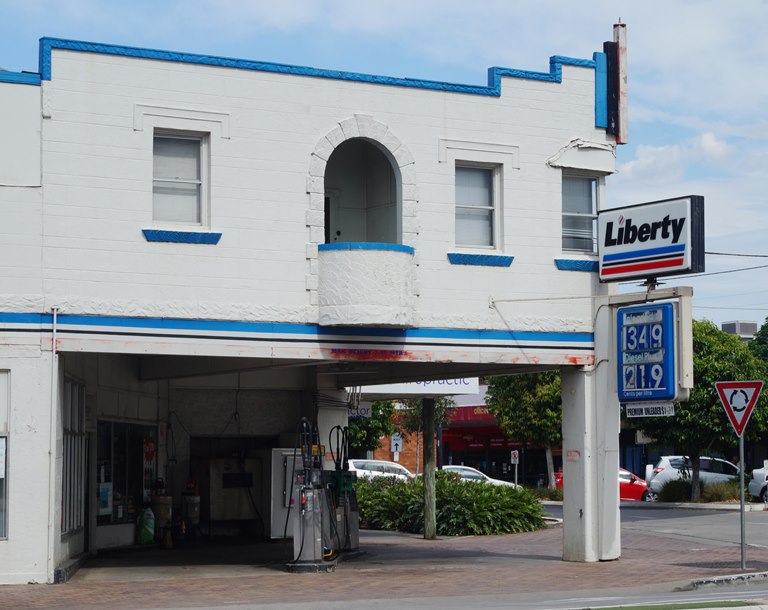 Our lavishly proportioned, spirited SV6 gets us to the Tweed region just in time for lunch. The sub-tropics are putting on a show as we arrive at our home near Mt Warning. The brooding sky gives way to pulses of purple lightning and rain hammers onto the tin roof, leaving a carpet of jacaranda flowers around the car.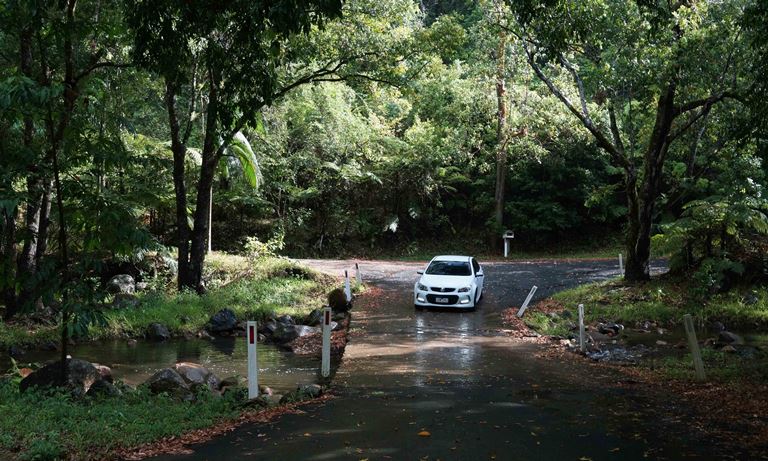 We're staying at Mavis's Kitchen, in a spacious self contained house near the acclaimed namesake eatery situated in a charm-filled Queenslander. Our vast deck provides peaks of Mt Warning and the daybed is just made for lapping up night- sounds worthy of a wildlife doco. Resident chooks, gourmet provisions, and an organic garden give Mavis's a cosy, homely appeal.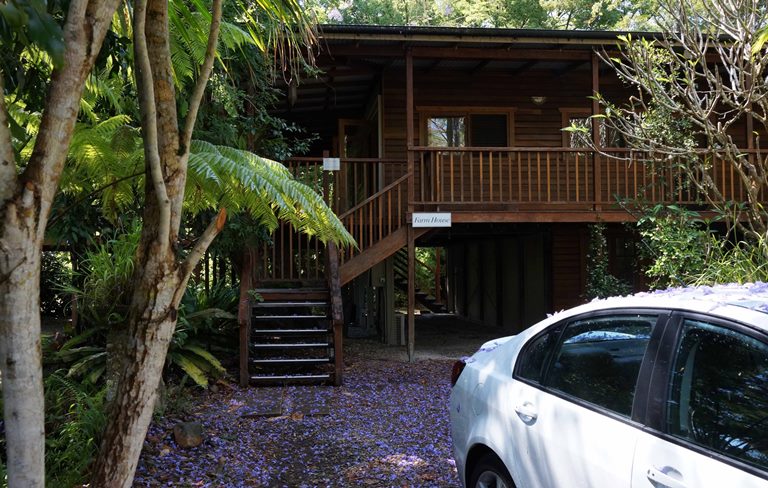 Surrounded by massive trees and situated a few metres from a section of the Tweed River that tumbles over rocks, Mavis's has the visuals and the atmosphere that make it a perfect base for exploring the hyper-green Tweed hinterland.
Close by is the village of Uki, with fine timber buildings and an erstwhile butter factory that's now an arts centre.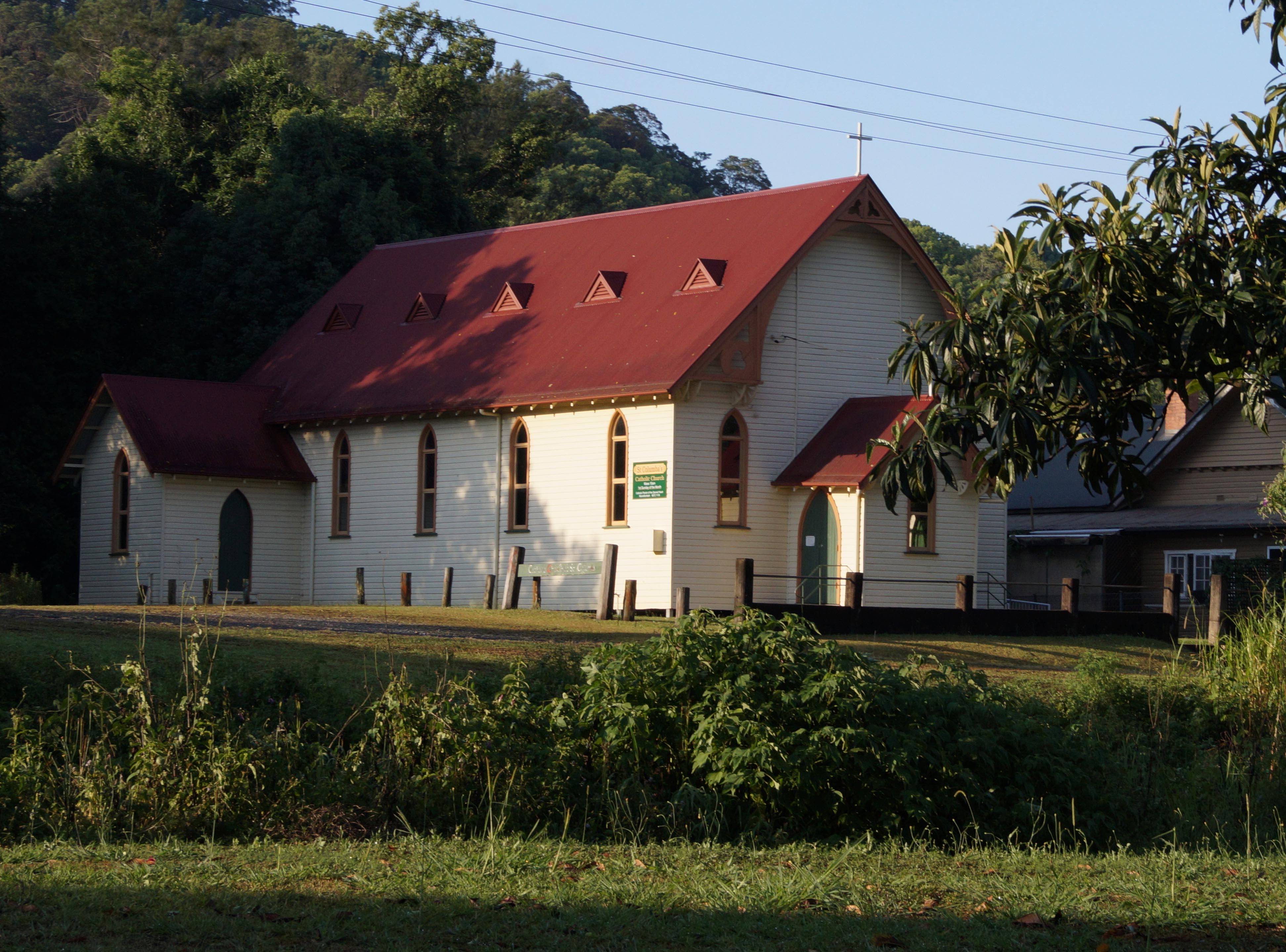 The remnant of a once gargantuan volcano, Mt Warning is a short, scenic drive from Mavis's. The rainforest here is distinctive for its profusion of bangalow palms and the short Lyrebird Track features a delightfully –set picnic table.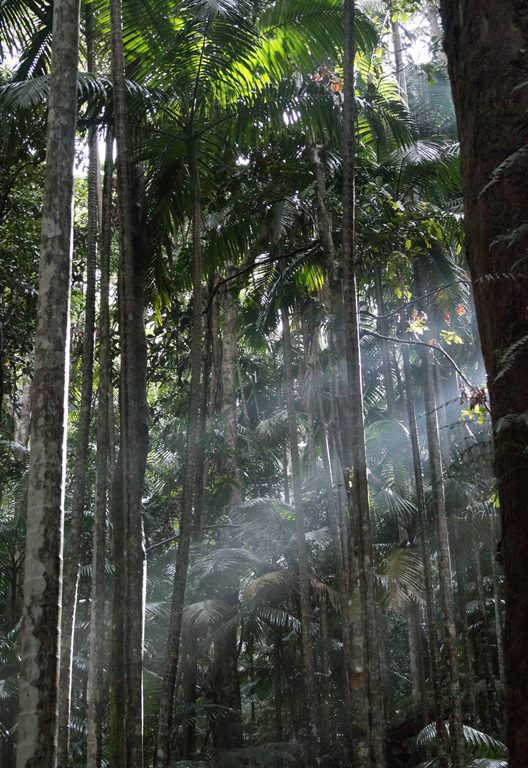 Narrow roads tunnelled by sprawling trees coil through a patchwork of rainforest, rolling hills, farms, rivers, cane-fields and banana plantations. Historic villages such as Stokers Siding, Chillingham (ask locals about nearby swimming holes) and Tumblegum are oblivious to the 21st century.  At Tyalgum, a classical music festival is staged each year in the timber hall.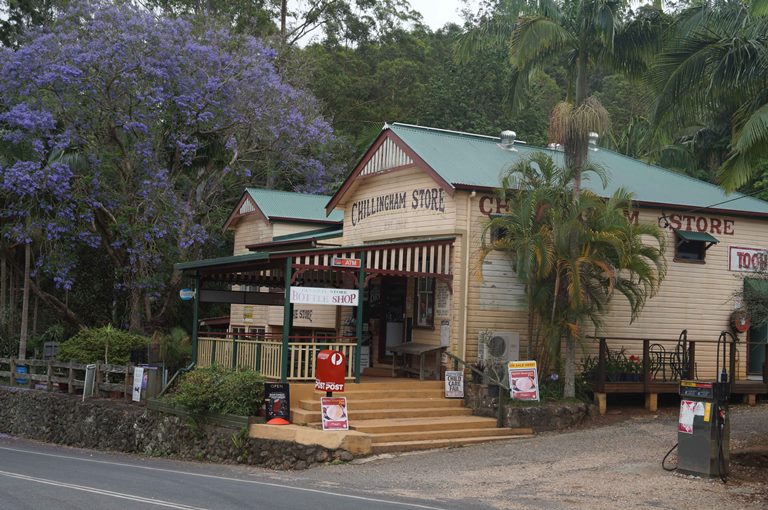 Sugar cane plantations nudge Murwillumbah, an old-school, low-slung country town with a fetching tropical vibe and houses hoisted up on stilts.
The edging of layered volcanic ridges, the tranquilizing effects of the Tweed River and proximity to five World Heritage listed National Parks provides a beautiful backdrop to a town abundant in cultural events and history.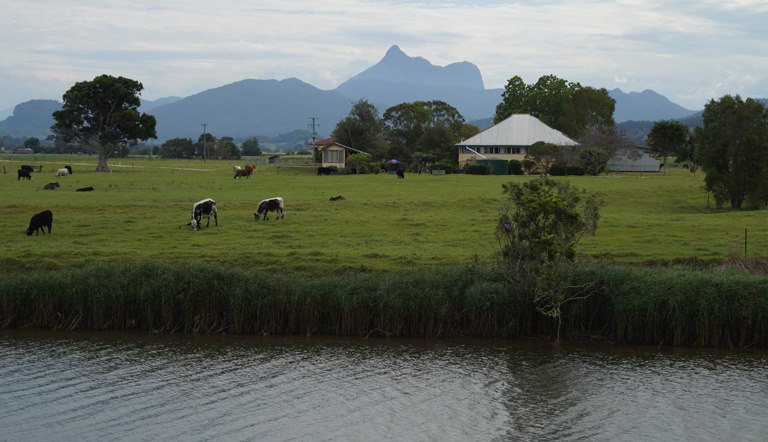 Murwillumbah's streetscape brandishes Art- deco pizazz – standouts include the fearlessly pink Imperial Hotel, the Regent Cinema, Austral Building and Southern Cross Credit Union building.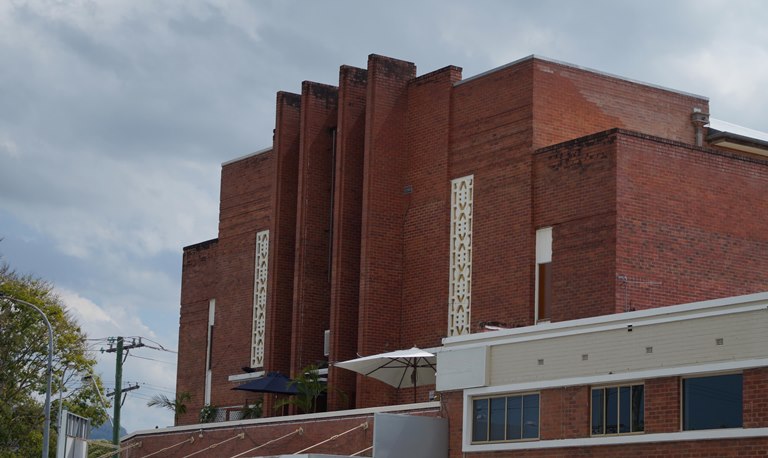 Don't miss the caldera art gallery – specialising in nature – based work by local artists – and Tweed Regional gallery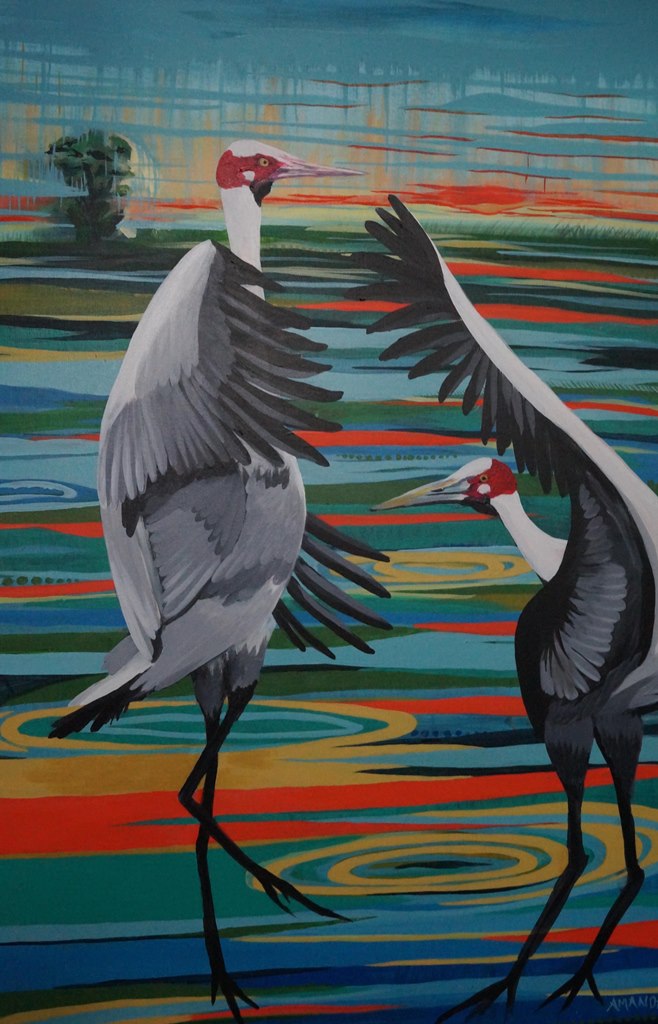 END OF PART ONE – Stay tuned for Part 2 of the Tweed Valley Road Trip.