Looking for a weekend getaway from Perth without driving too far? Walyunga National Park is the perfect destination. It's just 35km northeast of Perth city along the Great Northern Highway and is an excellent place for a picnic, hiking or simply to reconnect with nature for a night or two.
Walyunga is one of the largest known Aboriginal camping grounds in the Perth region, dating back 6,000 years. Part of the Darling Range, the park is set on both sides of the steep valley ascending from the Swan River. In summer, wildflowers transform the region, becoming a tourist attraction in their own right.
After driving to the park, a good place to stop and get your bearings at is Walyunga Pool. Take some food to barbecue or enjoy a picnic on the grass overlooking the river. Once you're ready for a bushwalk, there are several trails to choose from, ranging from a short 45-minute walk to a 10km loop track, taking you past the park's granite outcrops and along the Swan River.
If you're lucky, you might see some of the park's resident native animals, such as grey kangaroos, brush wallabies or echidnas – or, if not the actual animals, signs of them, such as their tracks. Bird-lovers should look out for galahs, thornnills and willy wagtails.
While the camping facilities are basic, they are well-maintained. Overnight visitors need to book ahead for a place at the camp ground, by phoning (08) 9571 1371.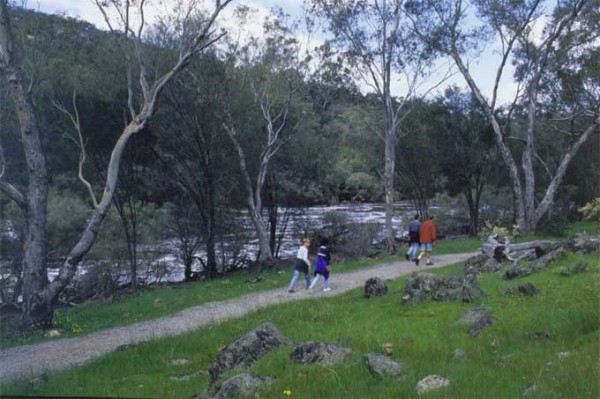 During winter, the rivers that meet here transform from a series of pools into a raging torrent, attracting whitewater enthusiasts from around the world to Australia's premier canoeing competition, The Avon Descent, in August.
If you're up for the challenge when visiting Walyunga, you can book a canoe trip to match your abilities, starting from the national park. Contact Adventure Out for details.
Walyunga National Park is open daily from 8am to 5pm with a $12 entry fee per car.

Need a rental car?
If you are after a great deal on a rental car whilst in Walyunga National Park, then we can help you. We have a new model fleet of vehicles to choose from, as well as being located inside all Perth Airport terminals as well as an office in the Perth central business district.