The 'Top End' of Australia, has a tropical climate, and two distinct seasons: the 'Wet' and the 'Dry'.
The 'Dry' season, from May until October, is characterised by warm, dry sunny days and cool nights, plus lower humidity and mild temperatures (21C (70F) to 32C (90F). These conditions make for a delightful holiday, but if you need a bit more convincing, we have listed some of the best 'Dry' events, drinking holes, day-trip and dining highlights.
Dry Events
Every year locals and tourists alike flock to Mindil Beach to witness or participate in the annual Darwin Lions Beer Can Regatta.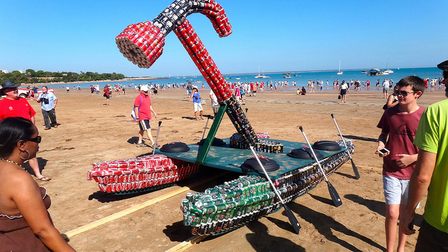 Obviously, building a sailing vessel from beer cans takes a lot of hard work and a serious commitment. But there is method in this madness, the festival was originally conceived as a tool to help clean up the litter (mainly beer cans) in and around Darwin. This 1974 initiative proved so successful, that it evolved into the major event it is today.
This year's event will be held on Sunday 17 July, from 10am to 5pm.
Mindil Beach is popular for its Thursday night sunset markets which operates from April to the last Thursday in October annually. Food is the main attraction and the wide range of cuisines available do not disappoint.
The Darwin Ski Club in Fannie Bay, directly opposite the Museum and Art Gallery of the Northern Territory, is another great sunset venue. It is a great place to relax, enjoy a cold drink and a delicious meal from the bistro while watching one of Darwin's spectacular sunsets.

The Deckchair Cinema located Jervois Road in the Waterfront precinct, will take you back to another era, and again is only open in the dry season. Watch a movie under the star while reclining in a deckchair. There's a licensed bar with a bar menu, or you can bring a picnic!
Scheduled in time for a couple of fantastic day trips on sealed and serviced roads. Rent a Redspot car and drive out to Kakadu National Park, (three hours via Nature's Way tourism drive).
Kakadu is teeming with wildlife, important Aboriginal rock art sites, and unique biodiversity, which has earned it a World Heritage listing. Entry is only $40 and amenities include: carparks, café, BBQ facilities, picnic areas, toilets, Visitor Information Centre, guides, walking tracks and viewing platforms.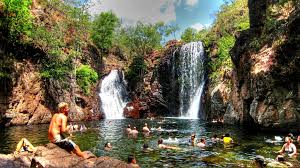 Day trip number two is only one hour and forty minutes south-west of Darwin, where you will find the Litchfield National Park – the perfect day trip – plunge into clear, cool waterholes fed by the Florence or Wangi Waterfalls or bob in the gentle three-tiered cascade at Buley Rockhole. There are also bushwalks, bird-watching and majestic termite mounds to see.
Darwin also has some fabulous restaurants and the dining scene is so much more than big steaks and cold beer. While pub bistros have their place, it would be a shame not to visit The Pearl, Yots Greek Tavern or Pee Wee's at the Point, and everyone is talking about Little Miss Korea.
Darwin is definitely worth visiting during the chilly winter days of the south. So, what are you waiting for? The Redspot counter can be found in the arrival terminal of Darwin Airport.