Southeast Queensland is a magnificent part of Australia that enjoys a lovely sub-tropical climate making it an ideal holiday destination 365 days a year. World Heritage Listed rainforests, world-class beaches, a thriving nightlife, massive theme parks, cosmopolitan cities, accessible island getaways, and so much more make this region one of Australia's most visited by locals and international visitors alike.
When you collect your Redspot Car Rentals vehicle from either our Brisbane Domestic or International Terminal locations, or our Gold Coast Airport kiosk, you'll have a plethora of southeast Queensland attractions at your fingertips. There will be no need to study bus timetables, wait for public transport or shuttle buses, you can just get in your rental vehicle and go wherever you want, whenever you want.
With a wide variety of places to visit in the city, hinterland and island locations, we recommend you include a portable GPS in your car rental reservation. We don't want you to get lost and waste valuable holiday time, so a GPS will help you make the most out of your rental vehicle and visit to the area.
During your rental period your vehicle will be covered by roadside assistance for any mechanical issues you may have. However, if you lose your keys, the battery goes flat because you left the lights on, or you can't change a flat tyre and require roadside assistance, the costs will be passed on to you. For a small daily fee, you can purchase Premium Roadside Assistance that will cover you for all breakdown scenarios (even if you lock your keys in the car)!
Seasonal temperature guide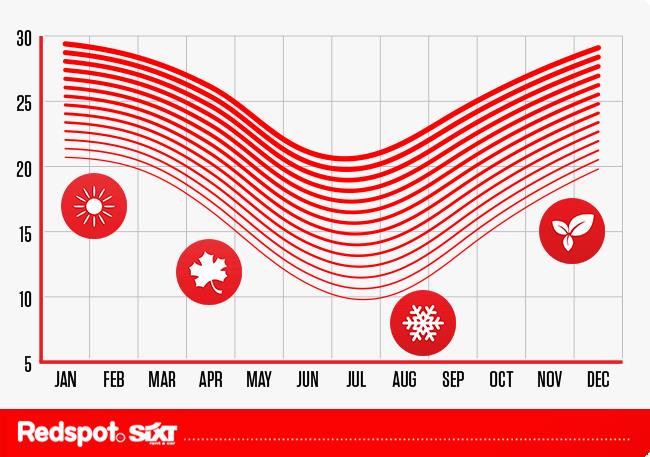 Summer (December-February)
The hottest time of year with temperatures hovering around 30º Celsius on average, although it can rise well above that. It is also the time of year when there is the highest levels of rainfall, including thunderstorms that can bring about occasional flooding. Pack some sunscreen, drink plenty of water and wear your shorts and t-shirts.
Autumn (March-May)
A nice time of year to visit southeast Queensland with temperatures ranging from 15º-25º Celsius, far less rain and thunderstorms, and cooler evenings.
Winter (June-August)
Winter is considered the dry season with little rainfall and daytime temperatures hovering around 18º-23º Celsius. However, it can get quite cool in the evening so you'll need to pack some warm clothing.
Spring (September-November)
A similar temperature to autumn with the days around 15º-25º, however the evenings don't tend to be as brisk. Also, the sea breeze takes a bit of the heat out of the daytime sun, but you'll still need your sunscreen and hat.
BRISBANE
WARM MONTHS (October-April)
South Bank
Seventeen hectares of lush parklands situated on the southern banks of the Brisbane River, it's the city's best location for restaurants, events such as the Good Food and Wine Show, views of the river, markets and places to get away and unwind.
Location: Parking is available on Little Stanley Street, South Bank
More information: visit.brisbane.qld.au
Bribie Island
Connected to the mainland by a bridge, Bribie Island is a laid-back island escape where you can enjoy bay beaches such as Bongaree and Bellara, surf beaches such as Woorim Beach, natural beauty, and various water sports on Pumicestone Passage.
For the more adventurous you could go tandem skydiving, hire a kayak, go camping or take an eco-cruise.
Location: Head north out of Brisbane on the M1, then turn right at the Caboolture turnoff (look for the signs to Bribie Island)
More information: visitmoretonbayregion.com.au
Go Shopping
Hit up some of the cities best shopping districts and pick up some great items from The City, Queensland's premier shopping precinct, the Queen Street Mall in the CBD, or local favourites in Fortitude Valley, Paddington and Wollongabba.
Queensland Art Gallery | Gallery of Modern Art
Showcasing a wide range of artwork from historical to contemporary pieces, if the visual arts are your thing, the QAGOMA is not to be missed. Both gallery's offer fantastic experiences, while there's also an interactive Children's Arts Centre, and cafes and restaurants to suit any palette.
Location: Stanley Place, South Bank
Phone: (07) 3840 7303
Open: 10am-5pm seven days a week (closed Christmas Day and Good Friday; open ANZAC Day from 12pm-5pm)
Cost: FREE
More information: qagoma.qld.gov.au
COOLER MONTHS (May-September)
Mt Coot-tha Lookout
Not only will you get an amazing view over the city and Moreton Bay by day, and an incredible array of flickering lights at night, you can also make a whole day of it with many other options available to you. There are the Botanic Gardens, Cosmic Planetarium and Herbarium, walking, bike and horse riding tracks, picnic areas, plus the Summit Restaurant and Kuta Café when you get hungry or need a drink.
Location: 1012 Sir Samuel Griffith Drive, Brisbane Lookout, Mt Coot-tha
More information: brisbane.qld.gov.au
Brisbane Festival
This world-class multi-arts event is a must see if you visit while its being staged. In 2014 it was during September, however 2015 dates are yet to be confirmed. You can choose from a range of genres including music, dance, theatre, comedy, circus, opera, cabaret and visual arts at venues dotted all around the city.
More information: brisbanefestival.com.au
Lone Pine Sanctuary
Just a 15 minute drive north of Brisbane's CBD, you can visit the 'Home of the Koalas', Lone Pine Sanctuary. It's the only state in Australia that allows you to cuddle a Koala, while you can also hand feed kangaroos, hold a snake, and check out native birds and animals in their natural surroundings.
Location: 708 Jesmond Road, Fig Tree Pocket (13km north of the Brisbane CBD)
Phone: (07) 3378 1366
Open: 9am-5pm seven days a week (Anzac Day, April 25 1.30pm-5pm; Christmas Day, December 25 9am-4pm)
Cost: Adult – $33, Child (3-13 years) – $22, Family (2A + 3Ch) – $80, Mini Family (1A + 3Ch) – $52, Concession (student, pensioner, senior) – $24, Backpacker – $28
More information: lonepinekoalasanctuary.com
Australia Zoo
An hour's drive north of Brisbane near the Glasshouse Mountains is Australia Zoo. Made famous by it's founder Steve Irwin, his documentary series the Crocodile Hunter made him a household name and put the zoo on the map. You can see a wide range of birds, mammals and reptiles, witness crocodile feedings, hand-feed the elephants, and enjoy hands-on experiences with other animals.
Location: 1638 Steve Irwin Way, Beerwah
Phone: (07) 5436 2000
Open: 9am-5pm seven days a week (ANZAC Day, April 25 1.30pm – 5.30pm; Christmas Day December 25 Closed)
Cost: Adult – $59, Pensioner – $47, Student – $47, Child (3-14 years) – $35, Family 5 ticket (2A + 3Ch) – $189, Family 4 ticket (2A + 2Ch) – $172
More information: australiazoo.com.au
GOLD COAST
WARM MONTHS (October-April)
BEACHES
Summer on the Gold Coast is all about one thing…the beaches. What better way to soak in the rays than hitting one of the many world-class beaches available to visitors up and down this stretch of southeast Queensland? Just remember, make sure you swim between the red and yellow flags for safety, use plenty of sunscreen and wear a hat to make sure you don't ruin your holiday by getting horribly sun burnt! Here's a selection of the best:
Burleigh Heads Beach
With it's village feel, boutique shops and cafes, and laid back locals, Burleigh Heads Beach on the southern end of the Gold Coast is where to go if you need to get away from the more touristy beaches.
Tallebudgera Creek
A little further south, just around the corner from Burleigh Heads Beach is Tallebudgera Creek, a stretch of water ideal for families with children. It's protected from the waves on the beaches, with the calm waters providing the ideal conditions for young children to swim and enjoy water activities such as kayaking and standup paddle boarding.
Surfers Paradise Beach
Arguably Australia's most iconic beach, it's a beautiful 3km strip of sand right in the thick of the action. People from all around the world descend on Surfers Paradise all year round, but it's at its peak in the summer months. This is where you go to see and be seen, and there's plenty of shopping, eating and drinking establishments within a short walk.
HINTERLAND
Get away from the hustle and bustle of the tourist beaches and take a drive through the beautiful green Gold Coast Hinterland. Enjoy beautiful rainforests, mountains, and scenic lookouts in World Heritage Listed national parks.
Tamborine Rainforest Skywalk
A 1.5km, 45-minute nature experience along the winding canopy floor, Skywalk Bridge, 40-metre Skywalk Cantilever and Cedar Creek viewing platform. Just 45 minutes from Surfers Paradise or 60 minutes from Brisbane International Airport, the Skywalk showcases the lush rainforests bordering the Gold Coast to the west.
Located: 333 Geissmann Drive, Tamborine Mountain Road, North Tamborine
Phone: (07) 5545 2222
Cost: Adults – $19.50, Child (6-16 years) – $9.50, Concession – $16.50, Family (2 adults, 1 child) – $44.00 (extra children $5 each), Primary Student – $8.50, High School Student – $9.50
Open: 9.30am-5.00pm (last walk starts at 4.00pm) seven days a week. Closed on Christmas Day and Anzac Day morning.
More information: skywalktamborine.com
O'Reilly's Tree Top Walk
Walk through vine covered flowering and fruiting trees, as well as orchids and ferns where many birds and animals call home. It's 180 metres long, including nine suspension bridges around 15 metres off the ground, and two observation decks, the highest of which is 30 metres from the ground.
The Tree Top Walk is FREE and is suitable for people of all ages and fitness levels. However it is recommended an adult accompany children during the climbing sections. It's 75km from the Gold Coast and should take around 75 minutes, or 113km from Brisbane and should take around two hours.
Location: Lamington National Park, Green Mountains Section, Canungra
Phone: (07) 5544 0644 (contact for opening times)
Cost: FREE
More information: oreillys.com.au
Burleigh Heads National Park
Head south to Burleigh Head National Park where you can walk through rainforest, along the rocky foreshore, through pandanus groves, tussock grassland, coastal heath and mangroves. Check out the surfers ride the waves at one of the world's most famous breaks on the northern side of the walk, see migrating whales pass by in the Spring and sea eagles soaring high above.
From Tallebudgera Creek take the Ocean View Walk and explore the rainforest circuit, and the rocky headland with its tumbled masses of basalt columns. During winter and spring you can see migrating humpback whales from Tumbun Lookout, catch seabirds and water dragons, and enjoy a picnic on the Burleigh foreshore or Echo Beach.
Location: Goodwin Terrace, Burleigh Heads
Phone: 13 7468 (toll free)
Cost: FREE
Open: For safety, walk during daylight hours
More information: parks.des.qld.gov.au
Lamington National Park
The World Heritage Listed Lamington National Park has so many walking trails and activities you'd need weeks to explore them all.
At the Binna Burra Mountain Lodge and Campsite there are four separate scenic walks you can explore. The Lower Bellbird Circuit and Coomera Circuit takes in the McPherson Range featuring forests, creeks, waterfalls and lookouts with magnificent views over the Gold Coast, southeast Queensland and northern New South Wales. The Gwongoorool Track descends towards the Coomera Gorge, passing by beautiful cliff structures before the track veers to the left, reaching the Coomera River and Gwongoorool rock pool. The Bellbird Circuit is great for those with children as it gives them the experience of following a rainforest walk. You'll pass through rainforest, then more open forest and eucalypt woodland before arriving at the cliff edges with views over Ships Stern, Egg Rock, Turtle Rock and Numinbah Valley.
Location: Binna Burra section, Lamington National park
Phone: 13 7468 (toll free)
More information: binnaburralodge.com.au
COOLER MONTHS (May-September)
Tamborine Mountain Distillery
Why not visit this century's most awarded distillery and liquor brand, the Tamborine Mountain Distillery. The mountain fruit is used along with the fresh spring water and rich volcanic soil to produce world class fine liqueurs, schnapps, vodka, eaux de vie and liqueur chocolates. Other attractions in the area include arts and crafts, shopping, bush tucker, guided walks and wine tasting.
Location: 87-91 Beacon Road, North Tamborine
Phone: (07) 5545 3452
Open: Monday-Saturday from 10am-3pm (Closed Good Friday, Christmas Day and New Year's Day)
More information: tamborinemountaindistillery.com
Currumbin Wildife Sancturary
A very affordable attraction on the Gold Coast, given the quality and range of activities, is the Currumbin Wildife Sancturary. It is the Gold Coast's best wildlife park where you can visit the wildlife hospital, cuddle a koala, enjoy daily shows and presentations, see kangaroos and crocodiles and many other native and exotic animals. The best part is the price as adult's get in at children's prices if you book HERE (currumbinsanctuary.com.au), so whether you're visiting with friends or as a family, it's an affordable day out for anyone.
Location: 28 Tomewin Street, Currumbin
Phone: (07) 5534 1266
Open: 8am-5pm seven days a week (closed on Christmas Day and Anzac Day)
Cost: Adult – $49 (unless you purchase via the link above), Children – $35, Concession – $40, Family (2A + 2Ch) – $133, Family (2C + 3CH) – $150, Family (2C + 3CH) – $168. There are package deals available for an additional cost including photos with a koala for $20, including a print.
More information: currumbinsanctuary.com.au
No visit to the Gold Coast is complete without taking in one or two of the theme parks. While they are reasonably busy all year round, it is during the winter months when it is the ideal time to go. The temperatures are comfortable, and the major summer holidays are still a long way off when the crowds of families are especially huge.
Dreamworld
Dreamworld has over 40 rides, including the 'Big 9 Thrill Rides'! The park is divided into different themelands – Ocean Parade, DreamWorks Experience, Wiggles World, God Rush Country, Rocky Hollow, Tiger Island and the Dreamworld Corroboree. Each area has its own rides, animal exhibits, shows, food outlets and merchandise. Dreamworld is also famous for the popular reality TV show, 'Big Brother', which is shot on-site.
Location: Dreamworld Parkway, Coomera
Phone: (07) 5588 1111
Open: 10am-5pm seven days per week
Cost: Child – $79.99, Adult – $99.99 (all tickets $10 cheaper online), these costs are for three-day passes, passes for 21 days, until Christmas Eve 2015, 12-months and two years also available. Tickets also include entry to WhiteWater World and SkyPoint Observation Deck.
More information: dreamworld.com.au
Sea World
Sea World is a marine mammal park, oceanarium and theme park, with rides, animal exhibits and loads of other attractions. While it's a fun place to enjoy, there's also an educational element where they promote conservation as well as the rescue and rehabilitation of sick, injured and orphaned animals.
Location: Sea World Drive, Main Beach
Phone: 13 33 86
Open: 9.30am-5.30pm (rides start at 10am and close at 5pm) seven days a week (except Christmas Day)
Cost: One day General Admission – Adult – $93, Child and Pensioner – $93. You are far better off purchasing a VIP Magic Pass giving you unlimited entry to Sea World, Movie World and Wet 'n' Wild until 30 June 2015 for $99.99.
More information: seaworld.com.au
Warner Bros. Movie World
Warner Bros. Movie World is a movie related theme park, the only one of its kind in Australia. There are plenty of themed rides, as well as performers dressed as famous movie characters such as Batman, Austin Powers and Scooby Doo wandering the park entertaining the visitors. It's also the home of active movie making studios where films such as The Railway Man, The Chronicles of Narnia: The Voyage of the Dawn Treader and the 2014 movie Unbroken, produced and directed by Angelina Jolie.
Location: Pacific Motorway (next door to Wet 'n' Wild)
Phone: 13 33 86
Open: 9.30am-5pm (rides start at 10am and close at 5pm) seven days a week (except Christmas Day)
Cost: One day General Admission – Adult – $93, Child and Pensioner – $93. You are far better off purchasing a VIP Magic Pass giving you unlimited entry to Sea World, Movie World and Wet 'n' Wild until 30 June 2015 for $99.99.
More information: movieworld.com.au
Wet 'n' Wild
Wet 'n' Wild is a huge water park that welcomes over one million visitors per year, the largest of its kind in Australia and the eighth largest in the world. The pools and slides are heated during the winter months, making it an ideal time to go.
Location: Pacific Motorway (next door to Movie World)
Phone: 13 33 86
Open: 9am-5pm seven days a week (except Christmas Day and Anzac Day)
Cost: One day General Admission – Adult – $93, Child and Pensioner – $93. You are far better off purchasing a VIP Magic Pass giving you unlimited entry to Sea World, Movie World and Wet 'n' Wild until 30 June 2015 for $99.99.
More information: wetnwild.com.au
We hope you enjoy your stay in southeast Queensland. Please be aware there are toll roads in and around Brisbane. All Redspot Car Rentals vehicles are fitted with an electronic e-tag device that beeps as you drive through a tollway. For a small daily fee we will cover the costs of all tolls during your hire period if you select this option during the reservation process. Otherwise toll costs will be passed on to you. Please note there are no toll roads on the Gold Coast.
If you need to return the vehicle after hours, you can leave the keys in our after hours drop box and you be free to catch your flight without any hassles.
Enjoy your stay in southeast Queensland, and should you have any questions about your Redspot Car Rentals vehicle, please don't hesitate to contact us on 1300 66 88 10.